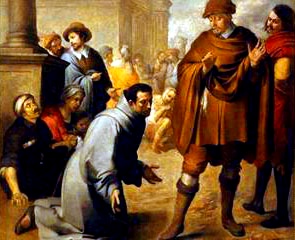 Holiness is an amazing characteristic to have, but in some cases it can cause some unneeded public attention. Public attention is not usually a desire of very many saints, especially St. Salvador, who would actually suffer because of it.
Salvador Pladevall i Bien was born to parents who were servants, during the Golden Age of Spain, which was flourishing in arts, politics, wealth, and even religion. Orphaned at the age of 14, Salvador and his sister would move to Barcelona, where he would take a job as a shoemaker to support the both of them.
After his sister had married, Salvador felt free to enter the religious life. At first, he entered the local Benedictine monastery, tin order to explore monastic life, but would seek a more humble experience. Therefore, at 21 years old, he entered the Fransiscans as a lay brother, where he would be known for his humility and simple ways.
He worked as cook, a porter, and eventually the official beggar for the Franciscans at a friar in Tortosa, Spain. While there, he became known for his charity and he would often heal people simply by making the sign of the cross. It was estimated that at one point 2000 people would come to Tortosa to see Salvador each week so that he could heal them. His superiors would become suspicious of him, continually transferring him to new friars. This would cause Salvador great gried throughout his life. Nevertheless, the sick kept following him wherever he went.
The public attention that Salvador received was relentless. It was said that people would tear off pieces of Salvador's habit to keep as relics.
Salvador would eventually move to Cagliari on the island of Sardinia, where he died in 1567.
It is great that saints are able to influence so many people, but sometimes all of the attention can detract from God's will for them. God has a plan for all of us, some people might atract more attention, but we are all important in God's eyes, and we should all strive to live as God wills us.
Luke